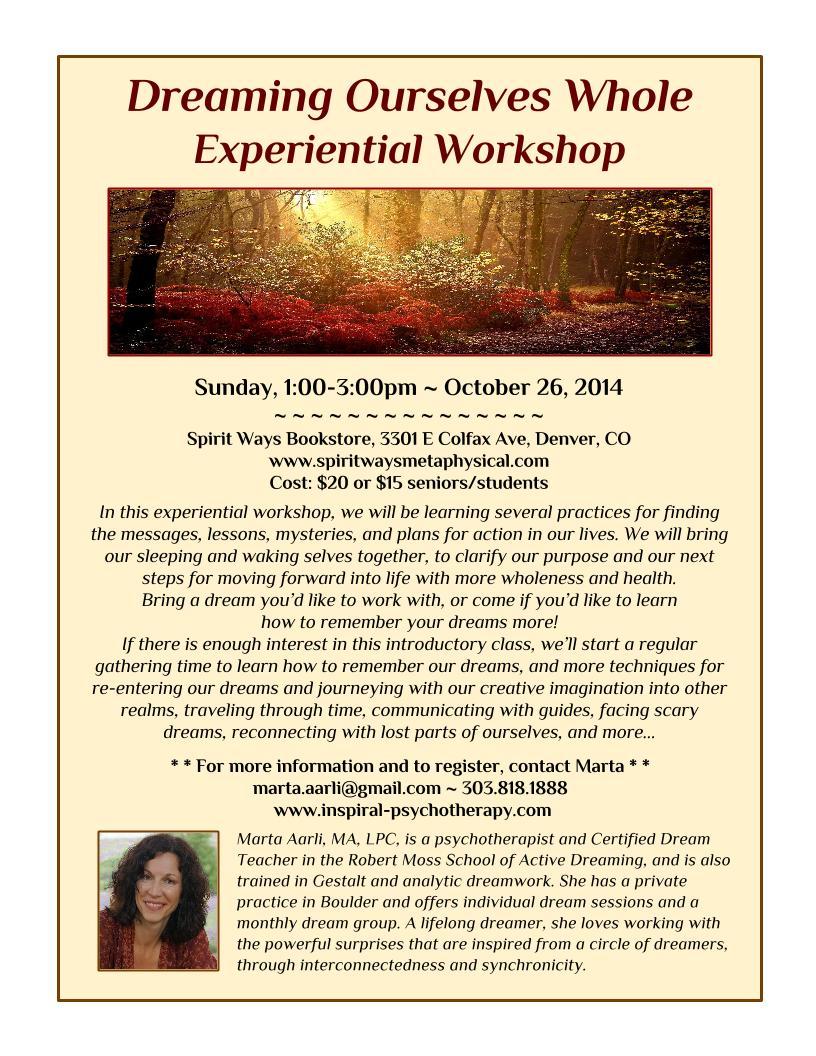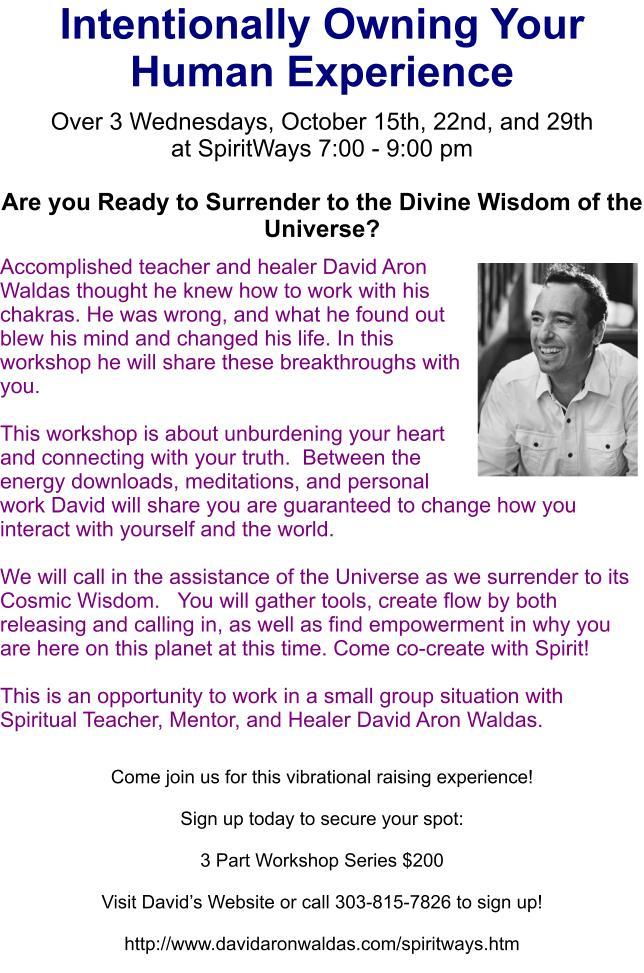 CLASSES



Twenty Two Keys of Wisdom- Begin your journey into Tarot with this 5 week workshop introducing the 22 major arcana cards. Learn basic meanings of these archetypal images and what they mean in readings. This class is taught by Amy at SpiritWays on Fridays from 5:30 pm- 7 pm September 5 through October 3. Registration is $25 per class or $75 in advance. Register by August 20th at SpiritWays as space is limited to 10 students. Notes will be provided. Students must have a journal and a tarot deck by the second class.(SpiritWays has a good selection of both.)

SpiritWays is no longer a dropoff location for items for the Eagle Heart Foundation. We are actively seeking another charitable foundation to support. If you have any suggestions please contact us at SpiritWays at 303-331-1070.
Tarot and Intuitive Readers
We have seven readers to choose from at SpiritWays.
Rob Peckham reads on Tuesday, Thursday, Saturday, and every other Sunday. Call us at 303-331-1070, or him at 858-610-7631. He is also available for special events.
Amy Smith reads Wednesdays through Saturdays, when available. Call 303-331-1070 to schedule an appointment, or drop in at SpiritWays.
Tabitha Dial reads tea leaves and/or tarot on Wednesdays from 10 -7 and other times by appointment. Call us at 303-331-1070, or call her at 720-422-5633.
Cathy Kromrey reads at SpiritWays every other Sunday from 12-5. Call 303-331-1070.
Lisa Schaim provides astrology consultations every Friday from 1-7. For most accurate results, bring your exact time and place of birth. Call us at 303-331-1070.
David Deutsch reads at SpiritWays by appointment. Call him at 303-359-9153.
Rory Lula McMahon reads at SpiritWays by appointment. Call her at 720-218-5781.
SpiritWays is on Facebook! Find us at spiritwaysmetaphysical@gmail.com to see photos of past events and stay informed of current happenings.
SpiritWays Drum Circle - Did you know drumming together can strengthen your immune system and raise your energy level? On the 3rd Saturday of each month, we host a drum circle in our shop. Join us to drum, dance or just share the energy.
7:00 pm to 10:00 pm - 2014 Schedule

January 18

February 15

March 15
April 19
May 17
June 21
July 19
August 16
September 20 Anniversary Party and Drumming!
October 18
November 15
(No Drum Circle in December)
Stone Classes - "Everything you wanted to know about stones...and then some!" Our very own Amy, begins new sessions about twice a month. Learn to identify and use gemstones and minerals. Learn how to make elixirs.

Call us for more information and register for the next class. 303.331.1070